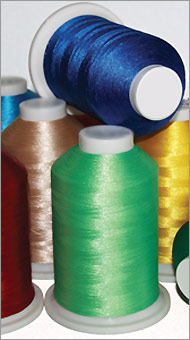 Exquisite Poly
Formerly known an Poly-X 40, Exquisite Poly is a high-quality, affordable, 40-weight polyester embroidery thread that provides the same brilliant sheen as rayon! Color-fast thread that withstands fading from ultraviolet light and industrial laundering.
Features:
Bright, high-tenacity polyester trilobal filament
Suitable for high-speed computerized embroidery
288 Colors
High tensile strength
High color fastness to chlorine and soda
Coated to make the thread smoother
EASY

on 1,000 meter spools
*While every attempt is made to reproduce thread colors accurately, colors on your monitor may not precisely match actual thread colors.